The downtown region in Toronto, ON is home to a substantial number of plumbers, so you may be finding it difficult to choose the best one.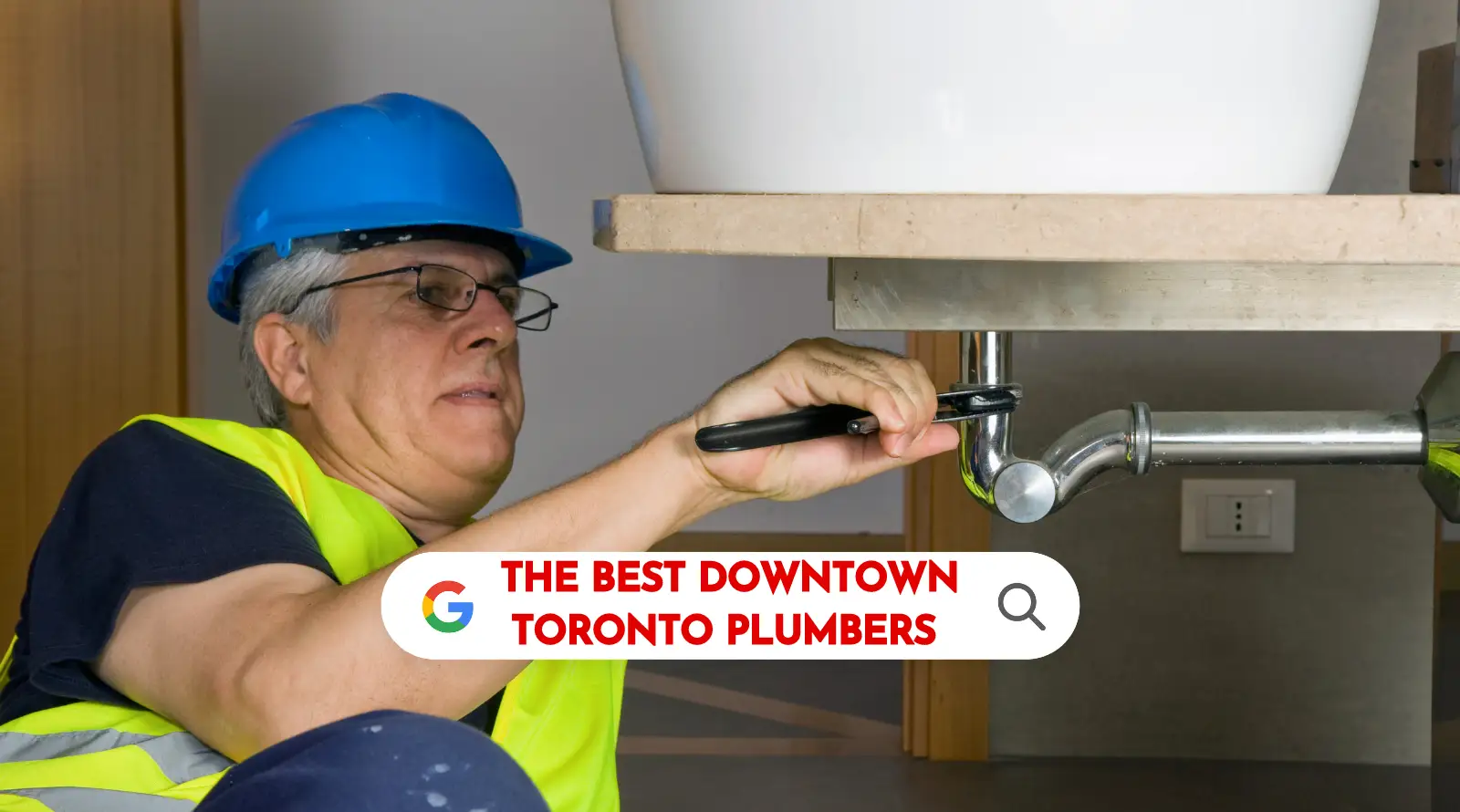 To make your job a bit easier, we've identified the 4 highly skilled plumbers in the area. They can help you with any issue tied to your residential or commercial plumbing systems.
Furthermore, the parameters we used to list these Downtown Toronto professionals include business history, public reviews, location, the scope of plumbing services, cost of plumbing services, offers, client engagement, and awards & recognition.
RELATED: The 13 Top-rated Plumbers in Toronto and Collingwood
Downtown Toronto's Top 4 Plumbers
Here are the plumbers that are most trusted by the people in Downtown Toronto, Ontario:
Living Services Plumbing Solutions – rated 4.6 out of 5
Strong Plumbing Inc – rated 4.2 out of 5
ADP Toronto Plumbing – rated 4.3 out of 5
Drain Master Toronto Plumbers – rated 4.7 out of 5
1. Living Services Plumbing Solutions
Living Services Plumbing Solutions is a Downtown Toronto plumber providing same-day plumbing repairs, replacement and installation services in homes, condos and offices in the neighbourhood.
Their experts can help you quickly and with a satisfaction guarantee resolve any plumbing problems you may be having. Be it clogged drains, blocked toilets, burst pipes, leaky pipes, noisy pipes, unusual smells, low water pressure, no hot water, or any fixtures that aren't pumping, draining, or flushing; they've got your back.
What's best is that they provide up-front flat-rate pricing after performing an on-site inspection. Whether you book their service on the nights, on the weekends, or the same day, you will always pay the same fees.
We particularly appreciate their highly skilled specialists who utilize only new, original, and premium parts to finish the repair. Plus, all repairs, replacements, and installations are covered by a one-year warranty, and all drain cleaning services are covered for ninety days.
Business Hours
Monday

8:00 am – 6:00 pm

Tuesday

8:00 am – 6:00 pm

Wednesday

8:00 am – 6:00 pm

Thursday

8:00 am – 6:00 pm

Friday

8:00 am – 6:00 pm

Saturday

8:00 am – 6:00 pm

Sunday

Closed
Public Reviews
"Aman demonstrated exceptional professionalism and knowledge. Our bathroom tap was leaking urgently, and he responded quickly, which significantly reduced our concern about needing a plumber at the last minute. He discovered the issue right away and quickly corrected it. Going to collaborate with him in the future." – Sunny
2. Strong Plumbing Inc
Next up on our list is – Strong Plumbing Inc. Any task, at any time, can be handled by Strong Plumbing's team. For all of your commercial and residential needs in the Downtown region, these people provide skilled plumbing and drain cleaning services around the clock at reasonable prices.
With Licensed Master Plumbers that are bonded and insured, Strong Plumbing has over three decades of expertise in offering top-notch plumbing and drain services to both residential and commercial sectors. Some of their popular services include a wide range of pipe repairs, installations, and complete replacements of all types of pipes, fixtures, faucets, and replacements of drain and sewer lines.
Another highlight is that they provide installations and repairs for sump pumps and sump pits. Strong Plumbing makes every effort to supply premium pumps that are long-lasting and completely functional when needed.
Thus, let them choose what has to be done, and they'll keep you informed.
Business Hours
Monday, Open 24 hours
Tuesday, Open 24 hours
Wednesday, Open 24 hours
Thursday, Open 24 hours
Friday, Open 24 hours
Saturday, Open 24 hours
Sunday, Open 24 hours
Public Reviews
"Valentin got back to us via text within 24 hours and completed the job within 2 hours of giving us an estimate (which was 15-20% lower than what two of his competitors quoted). Other companies wanted to charge $40-$100 just for their contractors to come to take a look at the damage, but Valentin was able to give us an estimate via text based on photos alone and the final price was exactly what he promised.
One of our sump pump exit pipes was damaged and got damaged due to improper installation by the original contractors (not Strong Plumbing Inc.). But, Valentin was happy to help us out with the fix and even went above and beyond to explain everything. He installed new rubber couplings that would allow some movement something the original contractor never thought of doing." – Imran Javer
3. ADP Toronto Plumbing
| | |
| --- | --- |
| BEST KNOWN FOR | Sewage Pumps, Booster Pumps, Drain Maintenance, Drain Installation, Industrial Water Heaters, Industrial Water Treatments, Industrial Waste Drainage and Venting, Plumbing Service & Repair, Hydro-jetting to clean out pipes and drains, Piping, Maintenance, and repairs, Fixture Installation |
| WEBSITE | https://onetorontoplumbing.com/ |
| TELEPHONE | +14168222221 |
| ADDRESS | 51 Homewood Ave #1, Downtown Toronto, ON M4Y 2K1, Canada |
ADP Toronto Plumbing is another plumber in the Downtown area you may consider. They're a one-stop plumbing and drain contractor business that is locally owned and operated. Their primary focus is on plumbing upgrades, repairs, and drain installation, cleaning, and repair.
Since 1998, ADP Plumbing has provided plumbing and drain services, and their top priorities are quality and customer happiness. As a GTA plumbing contractor, they embody the adage "competition breeds excellence". At present, they employ twelve licensed Greater Toronto Area plumbers. They drive five fully furnished trucks that are prepared to handle any plumbing or drainage issue.
For more information, give them a call. Their dedication to using cutting-edge, contemporary methods enables them to offer a wider range of plumbing and drainage services. So, we're sure to say that you'll get high-quality solutions, regardless of the size or breadth of your task.
Business Hours
Monday, Open 24 hours
Tuesday, Open 24 hours
Wednesday, Open 24 hours
Thursday, Open 24 hours
Friday, Open 24 hours
Saturday, Open 24 hours
Sunday, Open 24 hours
Public Reviews
"We recently completed upgrading our water supply and installing a mainline backwater valve. We are utterly satisfied with the services offered. The work being done is thoroughly explained by Andrew and his colleagues. The logistics are handled, and the cleanup is done to a high standard. I fully recommend Andrew and his crew for any plumbing service you may need." – Sean McClare
4. Drain Master Toronto Plumbers
Lastly, we've got Drain Master's Downtown Toronto Plumbers – one of the best in Ontario for comprehensive emergency drain services and more.
Are strong odors coming from your drains? These experts can locate the smell's cause and take action to get rid of it. It'll enhance the quality of the air in your house as a whole. Furthermore, they're skilled in identifying problems including damaged pipes, incorrect installation, and tree root incursion.
Their crew can use specialized equipment and methods to remove obstructions efficiently. In order to restore appropriate flow, they can clear obstructions from sinks, toilets, showers, and other drain lines.
They serve the majority of the Greater Toronto Area (GTA), including areas like Brampton, Whitby, Etobicoke, Oakville, Burlington, Mississauga, Vaughan, Toronto, and more. Give them a call for any emergency services or to receive a free quote.
Business Hours
Monday

9:00 am – 9:00 pm

Tuesday

9:00 am – 9:00 pm

Wednesday

9:00 am – 9:00 pm

Thursday

9:00 am – 9:00 pm

Friday

9:00 am – 9:00 pm

Saturday

Closed

Sunday

Closed
Public Reviews
"Having used Drain Master Toronto plumbing over the years, I have been more than satisfied. The owner responds within 24 hours and has never missed an appointment. His crew communicates well, and I appreciate all their work with us thus far." – Simon Langosh
FAQ on Toronto Downtown Plumbers
What are some top-rated plumbers in Downtown Toronto?
The Living Services Plumbing Solutions, Strong Plumbing Inc., ADP Toronto Plumbing, and Drain Master are some of the best plumbers found in Downtown Toronto, Ontario.
What services are offered by Toronto Downtown plumbers near me?
Sewage Pumps, Booster Pumps, Drain Maintenance, Back-Water Valve Installation, Water & Flood Damage, Video Camera Drains Inspection, Drain Installation, Industrial Water Heaters, and Industrial Water Treatments are a few of the typical services provided by Downtown plumbers in Ontario.
What measures should Downtown Toronto homeowners take to protect their plumbing systems during a power outage?
Turning off delicate appliances and faucets during a power outage in the Downton Toronto area. It will safeguard your plumbing system from surge damage after the power is restored. To ensure ongoing operation during outages, think about backup options like gas-powered water heaters and battery-operated sump pumps.
Our Final Thoughts
And there you've it – the best Toronto Downtown plumbers all in one place!
By choosing a reputable plumbing service provider in the city, you can rest assured that the job will be done timely and affordably.
We hope that this article will help you learn more about plumbers in general as well as the companies themselves. Send us a message if you have any further queries or suggestions for our list.